Nissa la bella
(uncodified Occitan)
or Niça la bèla (standardized Occitan)
(Nice the Fair)
Nissart lyrics and music by François-Dominique Rondelly, known as Menica Rondelly. Traditional from County of Nice.
This song is often regarded as the anthem (1) of the whole County of Nice.
See also Nissa rebella and The movies.
Introduction
Viva, viva Nissa la Bella !
Long live, long live Nice the Fair!

1st verse
O la miéu bella Nissa,
Regina de li flou,
Li tiéu vièji (2) taulissa
Iéu canterai toujou !
Canterai li mountagna,
Lu tiéu riche (3) decor,
Li tiéu verdi campagna,
Lou tiéu gran soulèu d'or !
O my beautiful Nice,
Queen of all the flowers,
Your old rooftops,
I will always sing!
I will sing the mountains,
Your rich sceneries,
Your green countrysides,
Your large golden sun [sunshine]!

Chorus
Toujou iéu canterai
Souta li tiéu tounela
La tiéu mar d'azur,
Lou tiéu cièl pur,
E toujou criderai
En la miéu ritournella :
« Viva, viva Nissa la bella ! »
Always I will sing
Underneath your arbours
Your sea of azure
And your skies pure,
And always I will proclaim
In my ritornello:
"Long live, long live Nice the Fair!"

2nd verse
Canti la capelina,
La rosa, lou lilà,
Lou pouòrt e la Marina,
Païoun, Mascouïnà !
Canti la soufieta
Doun naisson li cansoun (4),
Lou fus, la coulougneta,
La miéu bella Nanoun !
I sing the capelina (5),
The rose, the lilac,
The port and the Marina (6),
Paillon (7), Mascoïnat (8)!
I sing the garret
Where the songs are born,
The spindle, the distaff,
My beautiful Nanon!

3rd verse
Canti li nouòstri gloria,
L'antic (9) bèu calèn (10),
Dòu gioungioun (11) li vitoria,
L'òudou dòu tiéu printèms !
Canti lou vièlh Cincaire,
Lou tiéu blanc (12) drapèu,
Pi lou brès de ma maire
Dòu mounde lou pu bèu !
I sing our glories,
The antique Roman lantern,
The victories of the castle,
The scent of Spring's return!
I sing the old Sincaire (13),
Your white flag unfurled,
And the cradle of my mother
The most beautiful in the world!
1. See also Coupo santo and Se canto.
2. Vielhi, old.
3. Ric, pronounce rique, "rich". It's sometimes founded tant ric, "so rich".
4. la soufieta | Doun naisson li cansoun (the garret | Where the songs are born): Jouan Nicola quotes these lines in Lou Roussignòu (2nd verse).
5. A capelina is a large sun straw hat, flat and round, worn only by women and girls.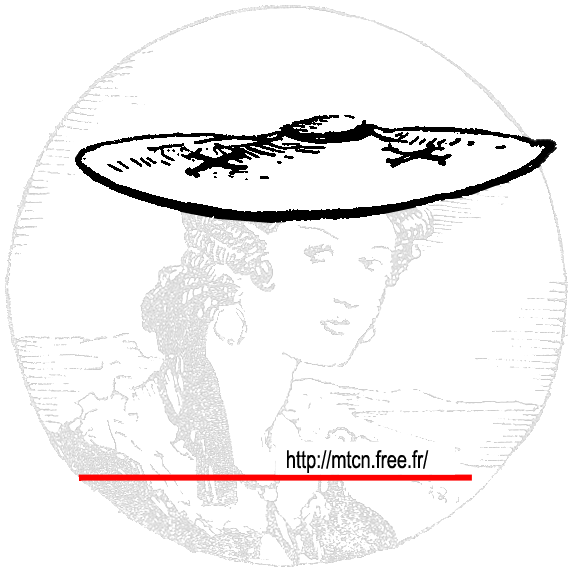 According to Gustav Adolf Mossa.
According to Vittorio Garnier-Valetti, Niçoises, 1852, detail.

6. La Marina (the "Navy") is the ancient name, up to the earlier 18th century, of the area located around the current Cours Saleya.
7. The Paillon is a river running across Nice.
8. The name of an other district in the old town.
9. Pronounce antique.
10. A calen is a kind of oil lantern.
11. Dounjoun, "donjon".
12. Pronounce blanque.
13. Sincaire (cinq caire, which means "five sides" or "five rocks") is, again, the name of a street in the old town.
B

ibliography
•
Delrieu (Georges), Anthologie de la chanson niçoise (Anthology of the Song from Nice), Nice, publisher Delrieu & Co, 1960, p. 10-11.
•
Tosan (Albert), Princivalle (Gaël) and d'Hulster (Frédéric), Anthologie de la chanson du comté de Nice (Anthology of the Song from County of Nice), Nice, Serre publisher, series "Encyclopædia niciensis – Patrimoine régional", volume III, 2001, p. 184-185.
•
revue Lou Sourgentin, Nice, n° 166, 2005, p. 37.
© 2001-2019 Jean-Gabriel Maurandi.